Airborne
Battle
Wheels
Oosterbeek
On saturday we drive from the landing zone to the bridge of Arnhem, and back to camp in Oosterbeek.
Our Race to the Bridge will end in the traditional static show around Museum Hartenstein. The timetable and route will be the same as always. We will, as as usual, drive through Oosterbeek between 15.20 en 15.45. We invite you to come and visit us there or along the route.
Date: Saturday 16 september 2023
Start:14:00 Telefoonweg, Renkum
End: 15:30 Airborne Museum, Oosterbeek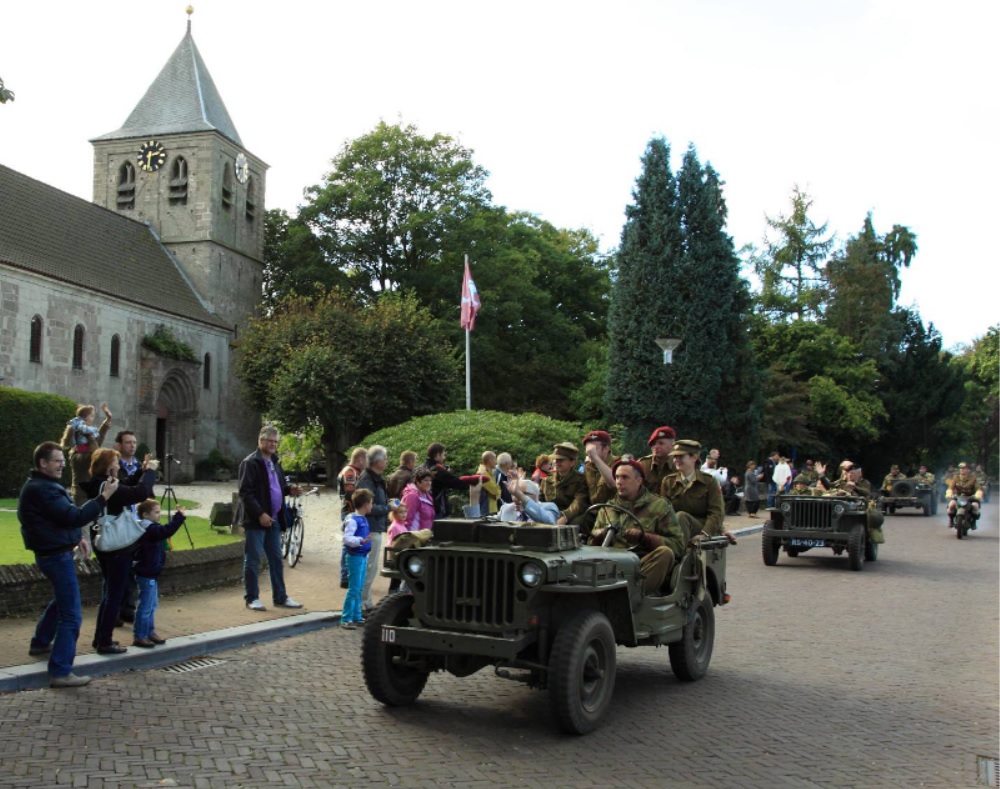 IMPORTANT NOTICE CONCERNING THE "RACE TO THE BRIDGE" 2023
This year the ABWO foundation will only allow British WW2 made and used vehicles and WW2 Canadian Jeeps.
-WW2 German vehicles are only allowed after a written invitation of the ABWO organisation.
-WW2 US Army vehicles and WW2 Canadian Dodges and trucks are NOT allowed.
-WW2 US Jeeps with British or Canadian magnet markingstickers are NOT allowed.
This year, every participant needs a Race To The Bridge Sticker. Participants of the ABWO event will receive their sticker at the campsite.
NOT a participant of ABWO?
NON-participants of the ABWO event have to buy a sticker at the startpoint of the Race to the Bridge at the north- and southside of Telefoonweg in Renkum. Cost of participation for the Race to the Bridge is 10,- euro per vehicle.
We will check your vehicle whether it is up to our standards and if so, you will get your sticker.
PAYMENT CASH ONLY!
Thank you all for your cooperation!!
The Airborne Battle Wheels Oosterbeek foundation
Route "Race to the Bridge":
The tour starts from Telefoonweg in Renkum, turning left onto Bennekomseweg heading towards Doorwerth.
Cross at Kievitsdel and continue on Oude Oosterbeekseweg, Doorwerth, Benedendorpsweg, Oosterbeek, keeping right towards Klingelbeek. Go under the railway tunnel. Then go straight for a bit, and further on, keep left until you reach the roundabout at Utrechtseweg near Kema. Here, the tour turns right onto Utrechtseweg heading towards Arnhem. In Arnhem, the tour then turns right via Onderlangs to Roermondsplein (Blauwe Golven).
Next, the tour goes through Weerdjesstraat, Eusebiusplein, Oranjewachtstraat to Westervoortsedijk. At Nieuwe Kade, turn right towards Rijnkade. At the Museum, take a short section of Bovenkade, and at the next opportunity, the tour turns left onto Onderkade.
The front vehicles continue to the end of the Onderkade/Boterdijk.
Around 14:45-15:55, arrival and a short stop at Rijnkade. Here, there will be a maximum 15-minute break to have a drink and take photos. No further activities.
Around 15:05-15:10, the tour resumes. Vehicles continue via Boterdijk Onderlangs.
Via Onderlangs to Utrechtseweg. The tour continues on Utrechtseweg until reaching the Airborne Museum Hartenstein.
Around 15:30, arrival at the Airborne Museum Oosterbeek.